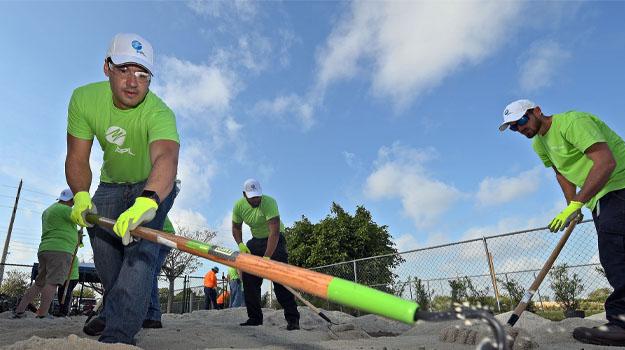 United Way of Martin County and United Way of St. Lucie County are committed to ensuring that residents in both counties have access to basic needs and critical community services during this time of the COVID-19 pandemic. Both United Way organizations are pleased to announce that Florida Power & Light Company (FPL), through the NextEra Energy Foundation, is gifting the nonprofits a total of $25,000. The funds are part of a more than $2 million gift of COVID-19 emergency assistance from the NextEra Energy family of companies for partner organizations across the country and funds made available through FPL's Care to Share program.
"We are proud to be partnering with an organization like FPL that continues to prioritize the needs of our communities," said United Way of St. Lucie County President and CEO Jessica Parrish. "It is through donations like these that we are able to continue to do the important work we do for our communities during this challenging time."
Both United Way of Martin County and United Way of St. Lucie County have set up COVID-19 Economic Relief Funds in their respective communities to assist those individuals and families in their local communities who are unable to meet basic needs like housing, food and healthcare.
"United Ways have a history of helping local people during their darkest hours – whether recovering from a natural disaster, a personal financial setback or an unforeseen medical emergency," said United Way of Martin County President and CEO Carol G. Houwaart-Diez. "But we couldn't lift those most vulnerable in our community without organizations like FPL who support us." 
FPL is also making contributions to additional United Ways and affiliated community partners across its service area. The emergency funds provided by the NextEra Energy Foundation will be distributed to organizations working on the frontlines of the COVID-19 crisis to provide critical support to the most vulnerable members of our communities.
 "As the COVID-19 pandemic continues to unfold, we are committed to assisting the most vulnerable in our communities as we all work through this unsettling and difficult time together," said FPL President and CEO Eric Silagy. "Floridians are no strangers to overcoming difficult crises and I'm confident that, together with partners like United Way of Martin and St. Lucie, we will become even stronger from our current challenges. And through it all, we remain focused on delivering the affordable, reliable power our customers have come to count on."
For customers experiencing hardship as a result of COVID-19, FPL has resources available at www.FPL.com/Help, or we can connect customers with resources available from federal, state and local authorities. To further assist customers, FPL is also suspending disconnections, providing payment extensions and waiving certain late payment fees for customers in a hardship situation.